Bail Granted to Supreme Court lawyer Ashwini Upadhyay, Court observed
As far as the offence u/s 153A IPC is concerned except for mere assertion,
there is nothing on record to show that the alleged hate speech to promote enmity between
different groups was done in the presence or at the behest of the applicant/accused. Even
during hearing, this Court has inquired from Ld. APP and so far, there is nothing against the
accused in the alleged video. It is not the case where there chances that applicant/accused
will abscond. Conspiracy is no doubt hatched behind closed doors and that the investigation
in the present matter is at nascent stage that however, does not imply that liberty of a citizen
be curtailed on mere assertions and apprehension. In B.P Sharma Vs. Union of India,
(2003) 7 SCC 309, Hon'ble Brijesh Kumar, J. observed that "it is always better, nay,
necessary too that the freedom as guaranteed under the Constitution should be allowed to be
enjoyed by the citizens to the fullest-possible extent without putting shackles of avoidable
coweb of rules and regulations putting check and restrictions in the enjoyment of such
freedoms."
Supreme Court lawyer Ashwini Upadhyaya who has filed 106 PILs for the welfare of the Public has been arrested by Delhi Police along with five others in relation to anti-muslim sloganeering which took place on Sunday on Jantar Mantar by some miscreants at some other place from his event after the closure of an event by Ashwini Upadhyaya in Delhi following his rally "against colonial-era laws" in the country.
Ashwini Upadhyaya has denied any involvement in the sloganeering. "I have submitted a complaint to the Delhi Police to examine the video which went viral. If the video is authentic, then strict action should be taken against the persons who were involved in it," he said.
According to Deepak Yadav, DCP, New Delhi, people who had gathered at Jantar Mantar had no permission. "It has come to our due notice that some people raised inciting and objectionable slogans as well. We have also received a video and have registered FIR in the case. We are carrying out further investigation into the matter. Necessary action will be taken at the earliest." he said.
"Apart from Upadhyay, we have arrested Preet Singh, president of Save India; Deepak Singh Hindu, president of Hindu Force; Vinod Sharma, head of Sudarshan Vahini; Deepak Kumar Gausewak, and Vineet Bajpai Kranti," DCP (New Delhi district) Deepak Yadav said.
Many Eminent lawyers come in support of Ashwani Upadhyaya on the Argument for his release on bail fixed for 11th August, Wednesday by strongly denying his involvement in the alleged cases. Eminent lawyers pleaded that Mr. Upadhyay has a very credible standing at the bar, moreover, this is against the rule of law. if he is arrested anybody can be arrested including me said Advocate Vikas Singh former Addl.Solicitor General of India., President of Supreme court Bar association of India. he said you cannot arrest anyone when there was no plausible suspicion of the person being present at the incident. He also raised a question I don't understand why the FIR was registered at midnight when the incident took place in the evening. The police cannot just arrest any person anytime.
Advocate Siddharth Luthra also referred to Supreme Court order Munnawwar's case and asserted that " He was not present at the place where the alleged incident took place. Therefore no offense has been committed. he added Very often in life we are part of a public gathering but that does not mean whatever happens later should be attributed to that person.
Advocate Ashwani Dubey AOR Supreme Court said that it is a biased and deliberate motive of the police, despite the fact that Ashwani Upadhyaya was not present at the time of alleged sloganeering and let the venue with Gajendra Chauhan, Dr. RVS Mani, former Central government officer, Dr. Firoz Bakht Ahmed Chancellor of Maulana Azad National Urdu University at 12:10.
After the long Argument Delhi Court today reserved order for Ashwani Upadhyay who is in Judicial custody now. Now order to be pronounced at 4 Pm. BJP leader and founder of Hindu Ecosystem Kapil Mishra come in support of Ashwani Upadhyay, who also referred that Ashwani Upadhyay is known for his public interest litigation petitions before the Supreme Court. No petition of Ashwani Upadhyay is rejected till now by The Supreme Court of India. He said TV debates are running against the reputed advocate but not the Sadhu who was attacked at Dasna Devi Mandir with knives.
In one of his petitions, the Supreme court on Monday directed that Members of Parliament (MPs) and Members of Legislative Assemblies (MLAs) criminal cases cannot be withdrawn without prior sanction of the concerned High Court.
Ashwani Upadhyay has also filed a plea in the Supreme Court last month against the Indian Penal Code, seeking a judicial panel or a body of experts to draft a 'comprehensive' and 'stringent' penal code for ensuring rule of law and equality. Another petition was filed by him before Supreme Court seeking a uniform civil code.
Another Angle has been seen in this case as some reports claimed that Dasna temple priest Swami Nareshanand Saraswati had come to attend the Jantar Mantar protest, where allegedly inflammatory slogans were raised after the closure of the event on August 8. A few hours later, the priest was attacked at Dasna temple with Knives, Ghaziabad.
Sachin Gupta, correspondent, Hindi Daily Dainik Bhaskar, wrote in a tweet, "A big update in attack on a priest in Ghaziabad temple… Swami Nareshanand Saraswati came from Bihar to attend the protest under the leadership of Ashwini Upadhyay at Jantar Mantar in Delhi. Controversial slogans were raised against a particular community in the protest. He was attacked a few hours after the protest."As of now, the information has not been confirmed by the Police regarding the same.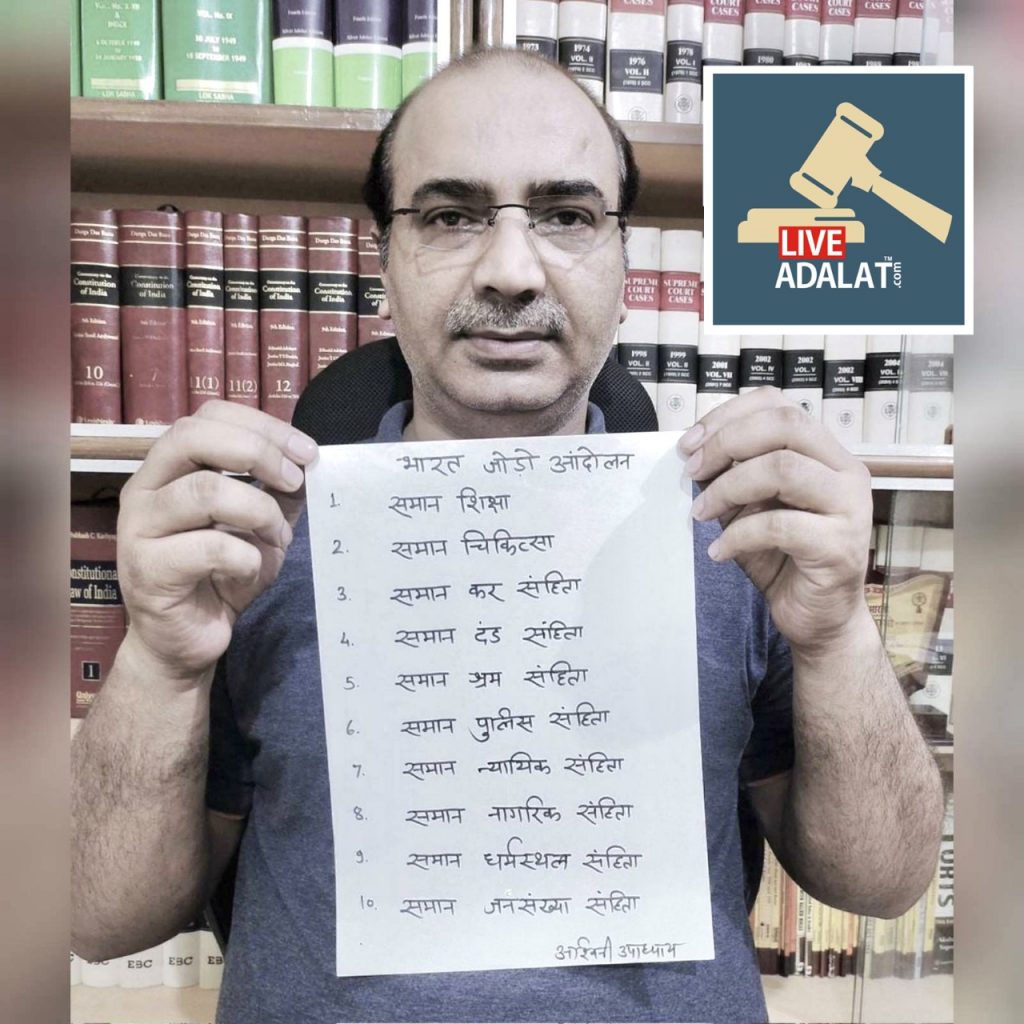 Yesterday evening Ashwini Upadhyay was released from bail which is celebrated by his followers which can also be seen on Social Media. His lawyer AOR of Supreme Court Ashwani Dubey expressed his views about the proceedings of the court and how the court slammed the Delhi Police for Arresting Ashwini Upadhyay.