Keeping in view the Article 21 of the Indian Constitution, the plea stated that the lawyers should cooperate with the police personnel at the main entrance of the courts.
A jailed gangster Jitendra Maan aka Gogi was killed in a shoot out inside the Rohini courtroom. The two killers were of a rival gang who posed as lawyers, however they were killed after police retaliated with gun shots. The lawyers' bodies in Delhi, called for no work and demanded a probe into the shoot-out, they demanded more strict security norms inside the court premises.
A Plea was filed in the Supreme Court by advocate Vishal Tiwari and another lawyer Deepa Joseph moved to the Delhi High Court. The lawyers sought directions to authorities to take necessary steps to ensure safety and security of the district courts.
The plea filed by Advocate Vishal Tiwari, raised the issue of safety and security of judicial officers and advocates and mentioned the hit and run case leading to the death of Dhanbad District and Sessions Court Judge Uttam Anand in Jharkhand.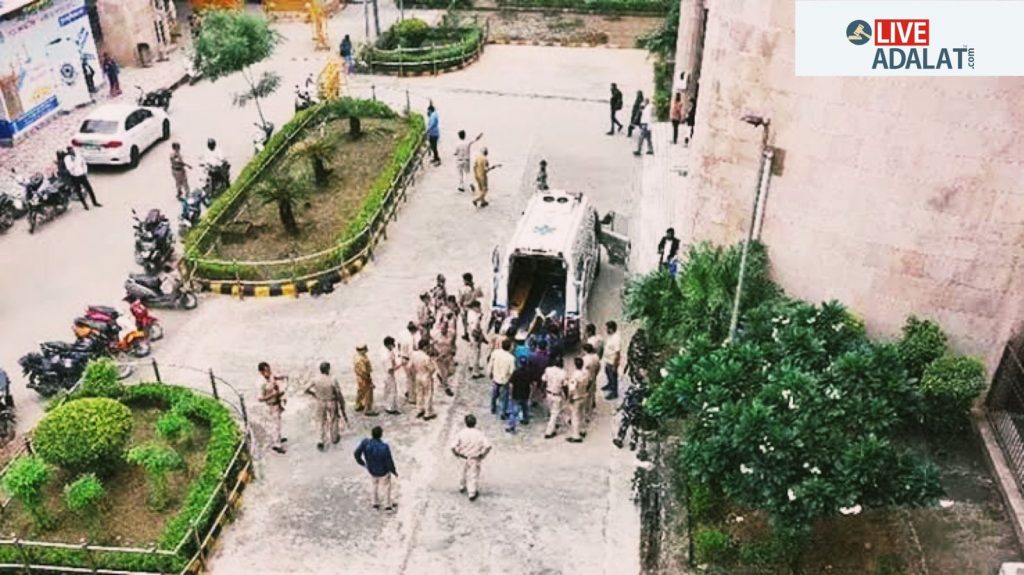 In response to the plea, the Delhi High Court on Tuesday issued a notice to Delhi Police and Bar Council of Delhi to take necessary actions to ensure safety and security of district courts in Delhi after the shoot out that shook everyone.

Advocate Robin Raju, representing the petitioner Deepa Joseph said that his client, a young lawyer, is under a fear of safety and security after the shoot out incident. The videos of the firing circulating on social media has jolted the young lawyer and she is afraid as she practices in various district courts of Delhi and the security at these courts is not sufficient as evident.

The plea suggested that BCD should issue an advisory to all Delhi District Bar Associations to ask members of their Bars to cooperate with police personnel at the main entrance of courts, keeping in mind Article 21 of the Indian Constitution.

"Recurrent incidents of shoot-outs in court premises is causing serious fear in the minds of petitioners and thousand of other fellow legal professionals practising in District courts of Delhi," stated the petition.

Advocate Ajayinder Sangwan who appeared for Bar Council of Delhi said,
"We had a detailed meeting with Senior Police Officials and it has been agreed that the security of district courts will be at par with the Supreme Court of India."
The next hearing is scheduled for 11 October.