Chief Justice of India NV Ramana and Telangana Chief Minister K. Chandrasekhar Rao inaugurated first International Arbitration and Mediation Centre (IAMC) of India at Nanakramguda on the outskirts of Hyderabad. The IAMC will accommodate temporarily at VK Towers in Gachibowli, an IT hub which is spread over the area of 25,000 sq ft.
The state government will allot land for the construction of permanent building at Puppalaguda in Hyderabad.
The Chief Minister of Telangana thanked Chief Justice of India for choosing Hyderabad as the location to set up the facility of arbitration and mediation.
CJI NV Ramana said that he is confident enough that the Centre would become the premier Centre for arbitration and mediation not only in India but across the world.
"I have not witnessed any such project concluding in such a short span of time. I had broached this subject with the Chief Minister on June 12 during his first visit to Hyderabad. The trust deed was signed on August 20 and the MoU between he government and the trust was signed on October 27."
He also added that the strategic location of Hyderabad would help emerging IAMC as one of the top destinations for arbitration and mediation.
According to Justice Ramana, the IAMC would resolve disputes related to the common people and not just commercial disputes.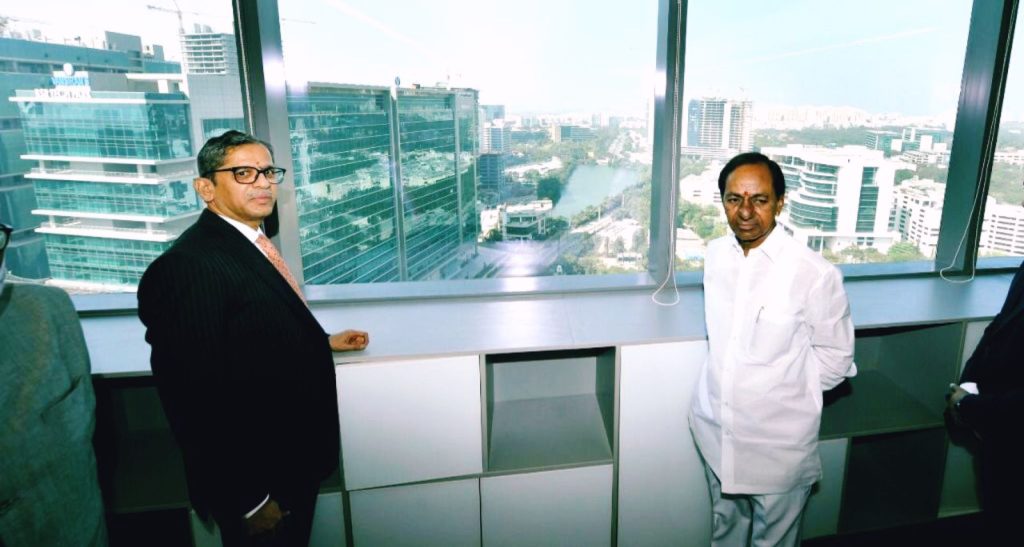 Justice Ramana said that methods such as ADR (Alternate Dispute Resolution) are beneficial to the parties to a dispute due to various reasons such as low cost, speed over timelines and process, autonomy of parties and more comfortable environment.
"One must keep the option of knocking on the doors of a court as the last resort. I say this after being in the legal profession for over 40 years in different capacities. Use this only after exploring the option of ADR system by availing its methods of arbitration, mediation and conciliation etc."
He further added that the setting up of IAMC at Hyderabad is an important step towards enhancing the ADR landscape of the country.
CJI Ramana termed the setting up of the arbitration and mediation Centre as a tribute to former Prime Minister of India P.V. Narasimha Rao as he considered ADR as the way of future.
The list of trustee of the Centre, Justice RV Raveendran, Supreme Court Judges Justice Lavu Nageswara, Justice Hima Kohli and other judges from Telangana and Andhra Pradesh were present at the event.