The video of the attacks being circulated on social media, shows the mob chanting "Nara e Taqbeer" and "Labbaik Ya Rasool Allah" which means that "I'm here at your service, o messenger of allah" and other slogans praising Islam and Prophet Mohammad.
Religious discrimination in Pakistan is a serious issue for the human rights situation in modern day Pakistan. Hindus, Christians, Sikhs and other religious minorities often face discrimination and also faces violence. A lot of cases of church, temple and gurudwara destruction has also been reported. Even the religious minorities are being targeted by the majority Muslim community. People belonging to minority religions are often falsely accused of using derogatory remarks against the Islamic prophet Muhammad, leading to fines, prison sentences and sometimes even death penalty.
Recently a case has been reported from Sialkot, Pakistan where a Sri Lankan man named Priyantha Kumara has been tortured and burnt to death by an Islamic mob who accused Kumara of blasphemy.
According to Baltistan Times, a daily newspaper, the people of the factory put Kumara on fire.
The General Manager was lynched by a group of people and then his body was burnt after killing him. The Rajko company made cricket jersey and gears for the Pakistan T20 cricket team for World Cup.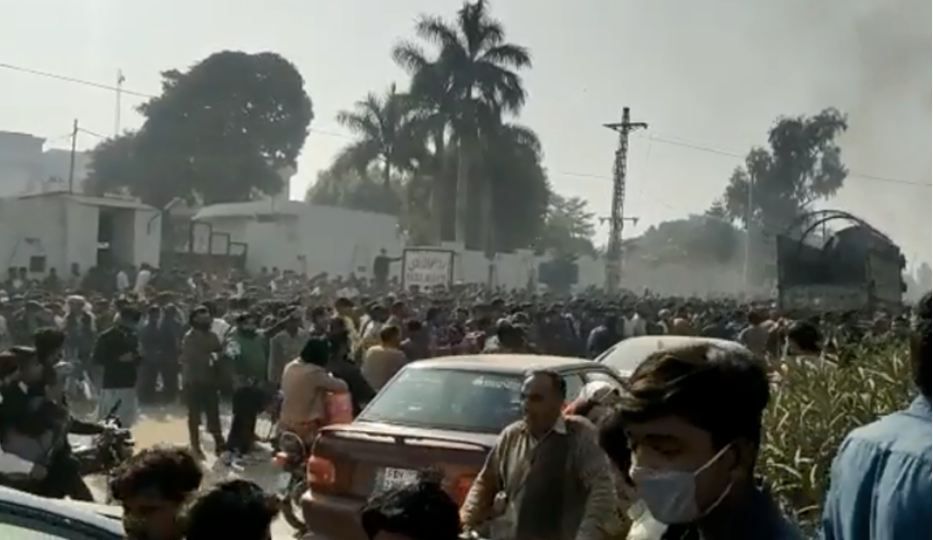 The Chief Minister of Punjab, Pakistan condemned the incident and termed it as "very tragic incident".
However, a person of lives in Sialkot took to Facebook and said that the victim was unaware of the paper and had accidentally thrown the paper in the bin and there was no deliberate blasphemy.
According to the sources, the General Manager of Rajko industries, tore posters off a wall in the factory which had religious texts written on it. He removed it from the wall as the wall was not a place where posters were allowed. After taking down the poster, hundreds of people gathered, dragged him outside and killed him and burnt his body.