The deliberate violent attacks by the Muslim mobs, targeting Hindus, Durga pooja pandals, and temples in Bangladesh, continued till now.
On Friday, a Muslim mob attacked the ISKCON temple in the Noakhali area and killed one 25-year-old devotee Partha Das. The mob destroyed the temple and many idols on the premises.
"ISKCON temple & devotees were violently attacked today by a mob in Noakhali, Bangladesh. Temple suffered significant damage & the condition of a devotee remains critical. We call on the Govt of Bangladesh to ensure the safety of all Hindus & bring the perpetrators to justice", ISKCON posted on social media platform Twitter.
On 10 October 1946, nearly 75 years ago, began one of the most unspeakable genocides in history. It was Kojagari Lakshmi Puja, the day Bengali Hindus seek blessings from their goddess of health and wealth on a full-moon night. The attack on Hindus in Ramganj of undivided Bengal (now in Bangladesh) started with the murders of fishermen and now it is Durga Puja.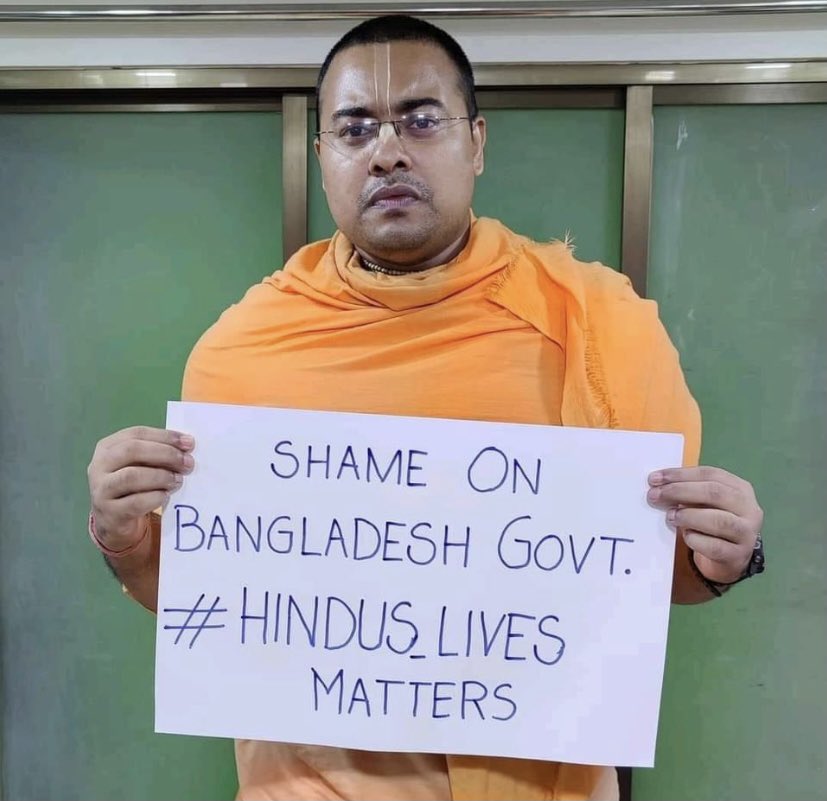 In Bangladesh (former East Pakistan), in which Noakhali exists like a charred dot, the Hindu population has dwindled from 28 percent in the 1940s to about 8 percent now. Hindus have faced waves of Islamist genocidal purge — another massive one during 1971 Liberation, for instance — and even today are subjected to murders, rape, conversion, temple destruction, and wanton land grab in Bangladesh and Pakistan.
In Kashmir also, Hindus and Sikhs are again facing ethnic cleansing by Islamist terrorists, with a spate of community-targeted killings lately.
After the Friday prayers, a group of Muslims held a meeting at the gate of Andarkilla Jummah mosque and then marched towards JM Sen Hall.
The violent attacks by the Muslims had started on Wednesday (October 13) when multiple mobs attacked many pooja pandals. The Islamists justified the anti-Hindu riots on the grounds, saying the devotees desecrated Quran. The Islamists have been using such made-up narratives to justify their violent anti-Hindu riots for years.
Two Hindu men have been killed in fresh communal violence in Bangladesh, police officials said on Saturday, taking the death toll to six from recent unrest in the country. Protests began on Wednesday after footage emerged on social media of a "blasphemous incident" during celebrations at a Durga Puja pavilion in Cumilla, bordering Chandpur and about 100 km from Dhaka.
Paramilitary forces spread through much of Bangladesh on Friday to help curb the worst communal violence in years targeting members of the Hindu minority as they celebrated their largest annual religious festival.
Many Hindus have died and are getting wounded since Wednesday as violence expanded across the country following allegations that a copy of the Quran, the Muslim holy book, was disrespected in a temple in Cumilla, a district southeast of the capital, Dhaka. Authorities shut down mobile internet access in Dhaka for much of the day.
The wrath that has been unleashed on Hindus in Bangladesh in various regions also includes insinuating the horror of Noahkhali – a place that in 1946 witnessed the largest Hindu killings.
Bangladesh: In 2021, Durga Puja pandals first became the subject of utmost cruelty and vandalism post which Hindu Houses, Ramthakur Ashram, and ISKCON temple were targeted.
Bangladesh: However, in what was the most unfortunate outcome – three persons including ISKCON devotees have been killed. Two ISKCON priests Nitai Das Prabhu and Jatin Saha Prabhu. ISKCON had confirmed the death of Partha Das – a 25-years-old devotee. He was brutally killed.
ISKCON devotees and members of the Hindu community have taken to the streets to protest against the open targeting of Hindus and religious places and they have surrounded the dead body of Partha Das as a mark of protest.
The Question here arose where are all World Human rights activists when there is open murder of Hindus and temples in Bangladesh? Why there is even one condemnation message from Human rights activist when is there is so much targetted killings in J&K?
Amidst the ongoing violence against the Hindu community in Bangladesh over false allegations of blasphemy, a secular blogger had narrated how radical Islamists brutally raped an entire Hindu family including a 10-year-old girl. The incident took place in Hajiganj Upazila in Chandpur district in the Chittagong Division of Bangladesh, it was claimed.
In a Facebook post that has now gone viral on social media, the secular blogger Azam Khan narrated the ordeal suffered by the unnamed Hindu family. He narrated, "The worse rape incident so far happened in Hajiganj, Chandpur. Muslim fanatics raped a whole Hindu family. They raped the mother, her daughter, and her niece, who is just ten years old."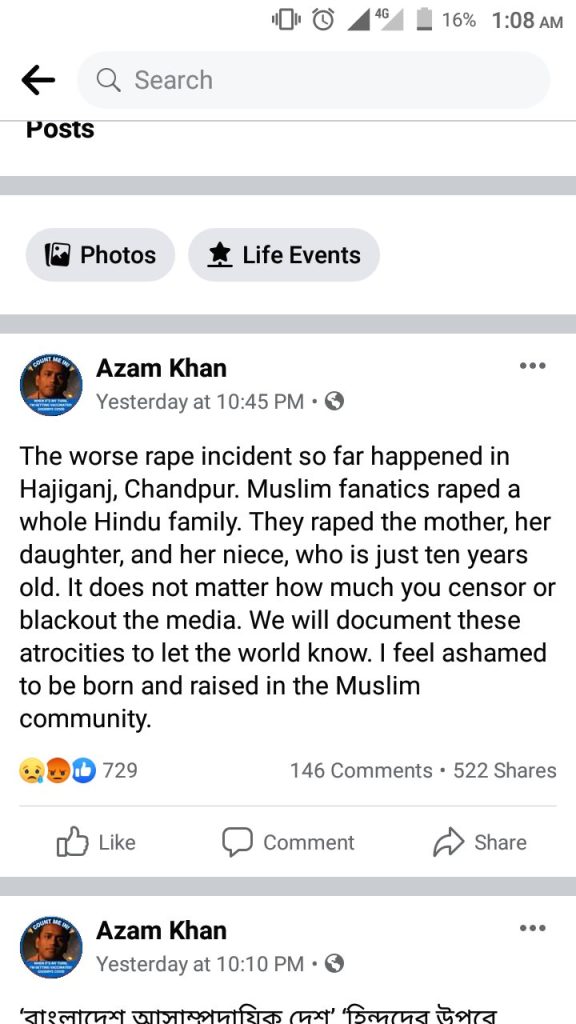 While expressing disgust at the heinous act of his fellow co-religionists, Khan emphasised, "It does not matter how much you censor or blackout the media. We will document these atrocities to let the world know. I feel ashamed to be born and raised in the Muslim community."
Bangladesh Prime Minister Sheikh Hasina met leaders of the Hindu community on Thursday and promised stern action but it is sad to say nothing happened, the cases of mob lynching, murders, attacks and Raped are coming every hour.