Actor Juhi Chawla today reached the Special NDPS (Narcotics Drugs and Psychotropic Substance) Court in the evening to sign a bond of ₹1 lakh for Shah Rukh Khan's son Aryan Khan.

The Bollywood actress, Juhi Chawla is a close friend of Shah Rukh Khan and has acted in a number of movies together with Khan. She is also a business associate of Shah Rukh Khan, they own together an IPL Team known as Kolkata Knight Riders.
The Kolkata Knight Riders team is a franchise cricket team representing the city of Kolkata in the Indian Premier League (IPL). The franchise is owned by Shah Rukh Khan, Juhi Chawla and her spouse Jay Mehta.
Juhi Chawla went to the NDPS Court as a surety for Aryan Khan. Satish Maneshinde who was representing Aryan Khan in the court said that Juhi knows Aryan since his birth.
Aryan's lawyers had to reach the Arthur Road Jail to ensure that Aaryan gets to walk out of the jail by today, so they prepared the paperwork as the Bombay High Court had released the bail conditions for Aryan Khan on Friday.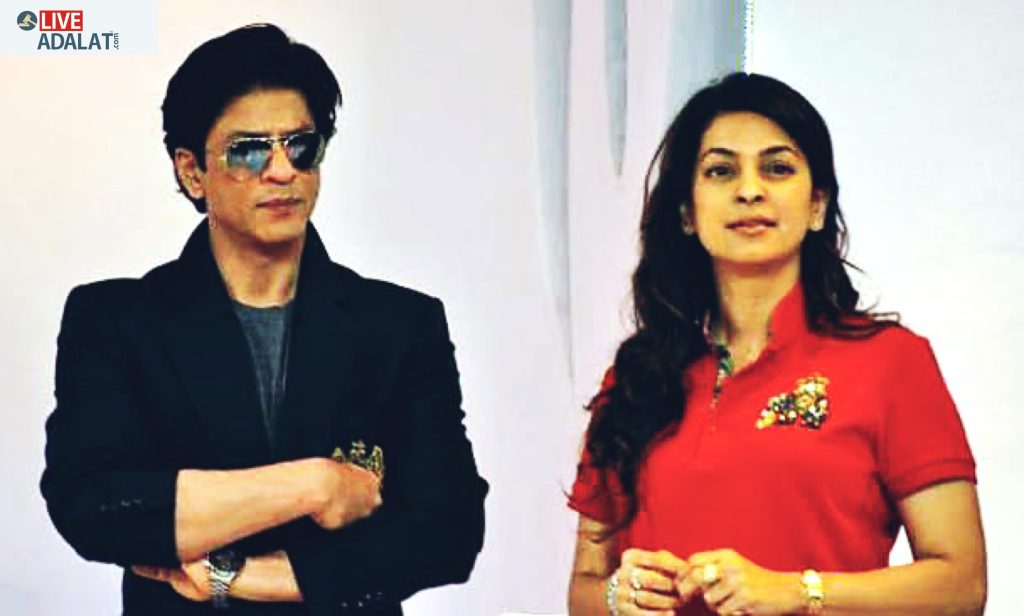 Juhi Chawla submitted her documents and also a bond of ₹1 lakh. The NDPS Court verified the documents.
All the formalities were completed by 5pm according to Satish Maneshinde.

"Bail formalities are completed. Surety of Juhi Chawla has been accepted. We are moving ahead. You will soon see Aryan Khan out. Juhi Chawla knows him since birth. Juhi Chawla is signing the bonds."
The Court granted bail to Aryan Khan under some conditions.
The first condition is that Aryan Khan will have to surrender his passport to the court and will not leave Mumbai without the permission of the investigating officer of the drugs on cruise case. Secondly, each of the accused has to execute a personal bond of ₹1 lakh with one or more sureties in a similar amount.
Thirdly, the accused shall not make any attempt to tamper evidence, influence the witnesses-neither personally nor through anyone. And lastly they shall report to the NCB Mumbai office each Friday between 11am and 2pm to mark their presence.
If the accused violates any of these terms, the NCB shall be entitled to straightaway apply to the Special Judge/Court for cancellation of their bail.
However, according to the recent reports Aryan Khan will not be released from the Arthur Road jail today, he will be released tomorrow morning according to the Arthur Road Jail officials. He will have to spend one more night in the jail as the papers were not delivered in time.