Delhi Chief Minister Arvind Kejriwal is facing backlash from all over the country after his speech in Delhi Assembly went viral where he said that 'The Kashmir Files' movie is based on lies and nothing is truth in the movie. The Hindu community, especially the Kashmiri Pandits criticised him for his insensitive comments.
The Government School Teachers Association (Migrant) on Monday rejected the claims made by Kejriwal to conceal his statements about the genocide and exodus of Kashmiri Pandits. Deputy Chief Minister Manish Sisodia, while speaking in the Delhi Assembly said that 233 Kashmiri migrant teachers were struggling to get regular for years in Delhi and it was the AAP government who supported them and regularised their employment.
"They were contractually employed. They were forced out overnight, they didn't have time to collect Certificate. These Kashmiri teachers were threatened of being fired if they didn't produce certificates. It was CM Arvind Kejriwal who decided to support them and regularise their employment. He (Kejriwal) understood that it was the responsibility of the whole country to heal their (migrants) wounds."
The Teacher's association of Kashmiri Pandits denied the claims and released a press note which mentions that how the Kejriwal government refused to give them jobs and opposed the regularisation till the very end.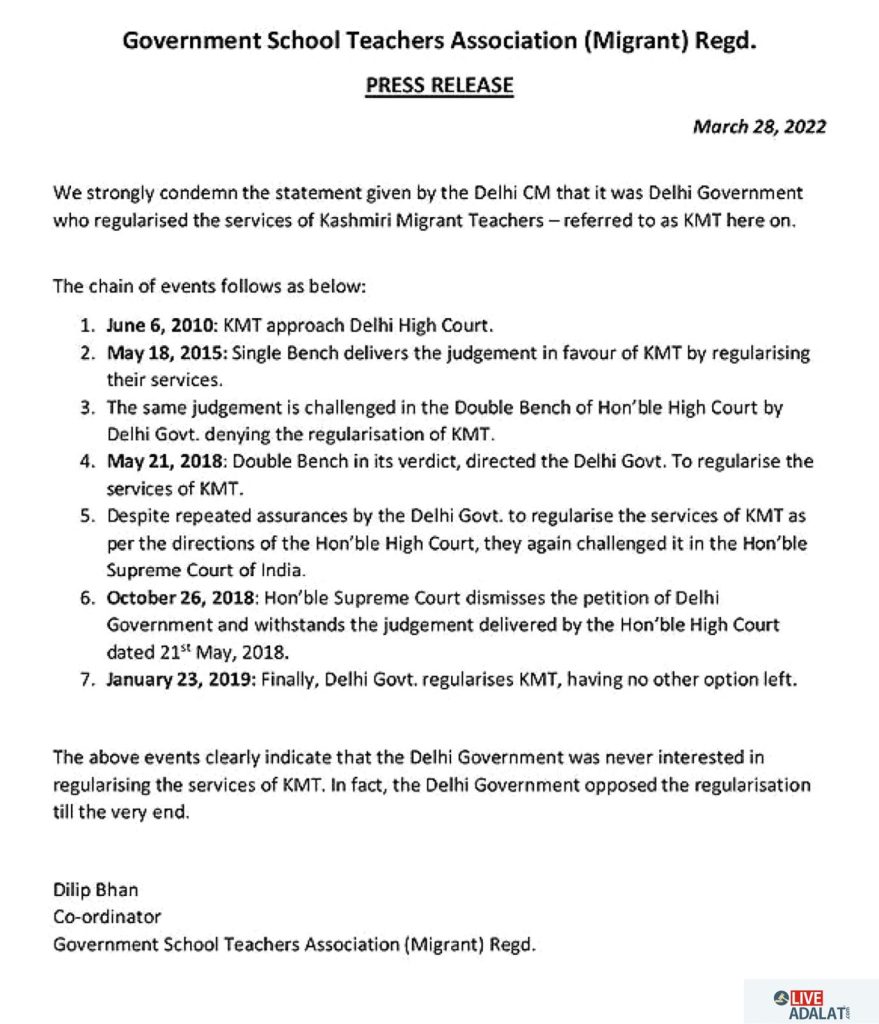 The association said that the migrant teachers approached the Delhi High Court over the issue in the year 2010. And a verdict was delivered in favour of the Kashmiri Migrant teachers by the Delhi High Court, however, the judgement was challenged by the Delhi government before a division bench of the high court.
"On May 21, 2018, the division bench of Delhi High Court in its verdict directed the Delhi Government to regularise the services of Kashmiri migrant teachers. However, the Kejriwal government in Delhi filed a review petition in the Supreme Court. On 26 October, 2018, the apex court dismissed the petition of the Delhi government and upheld the judgement of the high court. On 23 January, 2019, finally the Delhi government regularised the KMT having no other options left."

Dilip Bhan (Coordinator)

He also added that it was the Delhi high court that gave jobs to Kashmiri migrant teachers and not Kejriwal-led government.
"It was Bharatiya Janata Party's Madan Lal Khurana's government in power (in 1994). In order to give us some relief, he gave Kashmiri teachers jobs on contracts. The idea was that in a few months, terrorism would tone down in Kashmir and the Pandits would return, but it did not happen. In 2010, we went to high court. In 2015, the single judge bench gave a verdict in our favour."
He added, "at that time, Kejriwal led AAP was in power. We went to meet him and requested him to regularise the jobs. He assured us, and we waited. When I contacted our deputy director, he informed us that the verdict was challenged in front of the double bench. The case continued till 2018, and the double bench also gave a verdict in our favour. Finally, they challenged the judgement in SC, but the apex court dismissed their petition. They directed the government to give Kashmiri Pandits permanent jobs. It was a court that ordered to give us jobs, not the Kejriwal government."