Due to the high level of pollution in the national capital, the Delhi government filed a request with the Supreme Court for a possible lockdown. On Sunday, the air quality in Delhi improved slightly, but it remained in the 'very poor' category. Gopal Rai, the Environment Minister, stated that his government will submit a lockdown proposal to the Supreme Court in order to reduce pollution even more. On Sunday, the national capital's 24-hour average air quality index (AQI) was 330, down from 437 the day before, thanks to lower emissions from farm fires in Haryana and Punjab. On Friday, the AQI was around 471, the worst in the season so far.
In an affidavit filed in the Supreme Court on Monday, the Delhi government stated that it is "prepared to take steps such as complete lockdown to control local emissions."
Steps such as lockdown would be meaningful if it will be implemented across the NCR and neighbouring states like punjab & haryana

AAP government
As the Supreme Court resumed its hearing, the judges called Delhi's air pollution a "crisis," chastising the city government for making "lame excuses" and "passing the buck," and demanding immediate action.
Solicitor General Tushar Mehta told the court that farm waste burning accounted for only 10% of total emissions on average over the course of the year.
Centre tells Supreme Court that only 10% of the pollution in Delhi is being caused due to stubble burning in the neighbouring states. 74% pollution caused due to industries, dust and vehicles in the city.
The Supreme Court has also ordered the Centre to convene an emergency meeting of Punjab, Haryana, Delhi, and Uttar Pradesh on Tuesday to discuss persuading farmers to stop stubble burning, non-essential vehicular traffic, industrial pollution, and dust control measures. It also ordered the centre and state governments to respond by tomorrow evening on which industries, vehicles, and power plants can be halted, as well as how alternative power can be provided.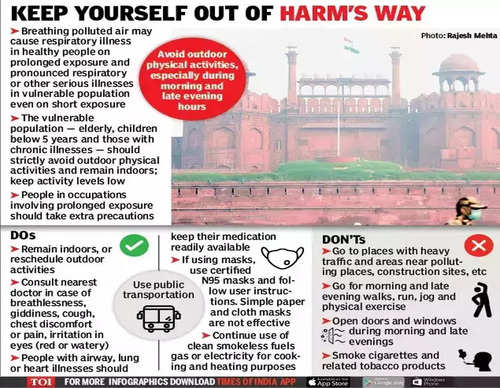 When lawyer Rahul Mehra, representing the Delhi government, said that the Mayor of the Municipal Corporation of Delhi (ruled by the BJP), can file an affidavit on how many mechanical road sweeping machines are needed to combat road dust pollution, the Chief Justice replied, "Are you trying to shift blame?" The Supreme Court slammed the Delhi government for passing the buck to the Municipal Commissioner and warned it to audit the revenue it earns and spends on popular Ad slogans.
Breathlessness and a burning sensation in the eyes have been reported. Authorities have advised residents to remain indoors.
All construction and demolition activities will be closed with immediate effect till November 17. The matter has been adjourned for hearing on 17th November.