The account of Indian Prime Minister Narendra Modi was hacked, and a tweet was sent out claiming that the Indian government had adopted bitcoin as legal tender and purchased 500 coins to distribute to all citizens. This hack occurred at a critical juncture in India, as the government is attempting to pass cryptocurrency legislation.
Also Read : Tablighi Jamaat banned in Saudi, declared it a getaway to terrorism
The official account for India's Prime Minister's Office then announced on Twitter that Prime Minister Modi's Twitter handle had been "very briefly compromised." "The matter was escalated to Twitter, and the account was immediately secured," it continued. During the brief time that the account was compromised, tweets must be ignored.
The hackers also used the hacked accounts to spread a bitcoin giveaway hoax on Twitter. Modi's Twitter account was hacked once more in September. The account posted tweets asking for bitcoin donations for the Prime Minister's National Relief Fund for Covid-19.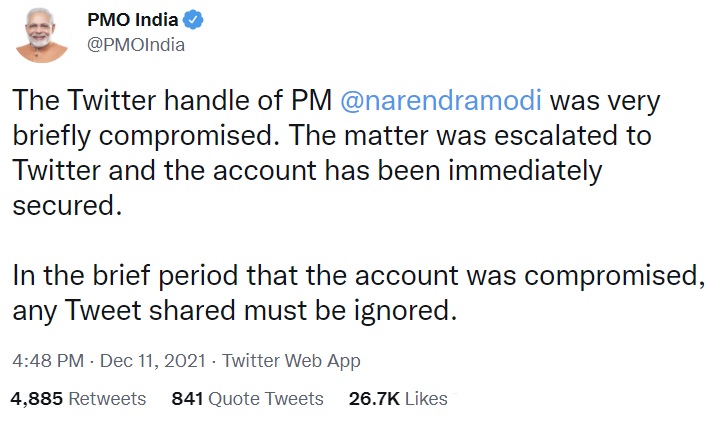 Modi's Twitter account was hacked just as India considers regulating bitcoin and other cryptocurrencies. The Lok Sabha, India's lower house of parliament, has scheduled a hearing on a crypto bill. According to reports, Modi will make a final decision on India's cryptocurrency legislation. He is said to have hosted at least two high-level crypto meetings.
Also Read : Centre introduces Narcotic Drugs and Psychotropic Substances (Amendment) Act,2021 in Lok Sabha
"At this time, there are no signs of any other impacted accounts," Twitter said after its investigation. Several Opposition leaders expressed their displeasure with the breach, claiming it revealed flaws in cyber security.
"We have open lines of communication with the PM's Office 24 hours a day, seven days a week, and as soon as we became aware of this activity, our teams took the necessary steps to secure the compromised account." "At this time, our investigation has revealed that there are no other impacted accounts," a Twitter India spokesperson said.
As of 10 a.m. IST on December 13, the price of bitcoin in India was Rs. 39.65 lakh.
The government is concerned that cryptocurrencies could be used to deceive investors with false promises, as well as to fund terrorist activities and money laundering. It is likely to introduce legislation to address the problem.