The Supreme Court Collegium met on the 16th of September and recommended elevation of acting Chief Justice of Calcutta High Court Justice Rajesh Bindal as CJ of Allahabad HC. 
The Supreme Court Collegium, headed by Chief Justice of India, N.V. Ramana, recommended eight names to the Centre, for the post of Chief Justices (CJs). Thirteen High Courts in India are going to get new Chief Justices, and five Chief Justices will be transferred to other High Courts.

Justice Rajesh Bindals' name is also included in the list for elevation and transfer to other high court.
Rajesh Bindal will be elevated from the post of acting Chief Justice of Calcutta High Court to Chief Justice of Allahabad High Court. He has been in controversy for his administrative and judicial decisions in the matters related to political turmoil between the BJP and the Trinamool Congress in West Bengal.

Acting Chief Justice of Chhattisgarh HC Justice Prashant Kumar Mishra has been recommended as the new Chief Justice of Andhra Pradesh HC whereas Justice Rituraj Awasthi has been recommended as Karnataka HC CJ.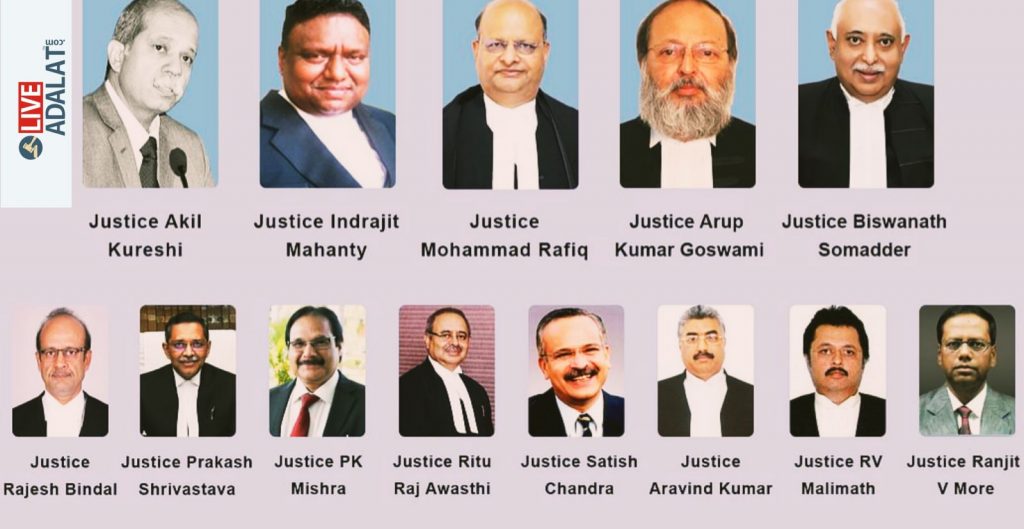 The Collegium has recommended the names of the following Chief Justices:
Justice Satish Chandra Sharma as the new CJ of Telangana
Justice Prakash Srivastava as the new CJ of Calcutta
Justice RV Malimath as the new CJ of Madhya Pradesh
Justice Aravind Kumar as the new CJ of Gujarat
Justice Ranjit V More as the new CJ of Meghalaya.

On the other hand, the Supreme Court ordered the transfer of five Chief Justices including, Justice A.A Kureshi, CJ of Tripura High Court to the CJ of the Rajasthan HC, while Justice Indrajit Mahanty, the CJ of Rajasthan High Court will be transferred to Tripura HC as the Chief Justice, CJ Arup Kumar Goswami from Andhra Pradesh to Chhattisgarh, CJ Mohammad Rafiq from Madhya Pradesh to Himachal Pradesh and CJ Biswanath Somadder from Meghalaya to Sikkim.
CJI N.V. Ramana has been recommending names for filling up the vacancies in the High Courts of India.