The Supreme Court on Monday said, "The mushrooming of the forest area into slums, action not being taken despite court orders…somebody has to be held responsible for all this."
Demolition of unauthorised residential buildings constructed on forest land in Khori Gaon village in Haryana took place which led to the dispersion of the people residing there.
The Court made it clear that the primary focus was to rehabilitate the eligible people who lost their homes to the demolition.
The Bench of Justice AM Khanwilkar and Justice Dinesh Maheshwari said that if action is not taken in accordance with the Top Court's order, somebody will have to be held responsible.
"We will have to hold someone responsible for the situation. In the first place, the mushrooming of this area to slums or unauthorised area, and then action not taken despite the court order…then we will have to hold someone responsible for that."
The State of Haryana and it's Forest Department were granted two weeks further time by the bench to complete the process of notifying which land falls in the forest area and which does not.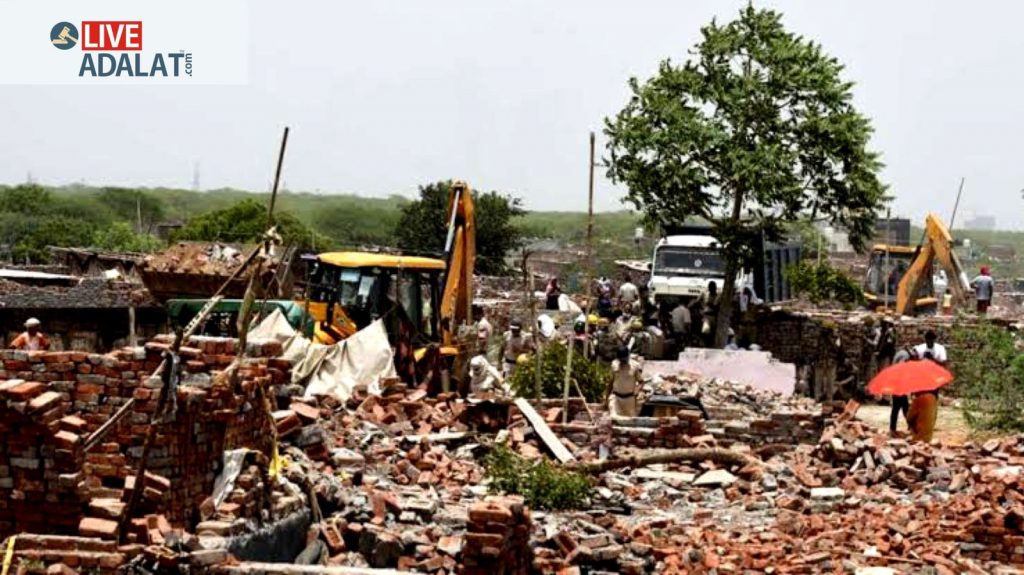 After the Supreme Court set a deadline for clearing encroachments on the subject forest land in Khori village, the Municipal Corporation of Faridabad (MCF) started demolishing work on the 14th of July. Most of the people have been scattered and are now living in rented accommodation, while many of them have to live over the remains of their demolished houses, tin sheets of roofs.
A rehabilitation plan has been proposed by the MCF, the displaced residents will be allotted EWS houses in Dabua Colony and Bapu Nagar.
However people with annual income of up to ₹3 lakh will be eligible for this. Also, the head of the family must have his name in the voter list for Badkhal Assembly Constituency as of January 1, 2021 or the head of the family should have an identity card issued by the Haryana Government or any member of the family must have an electricity connection issued by the Dakshin Haryana Bijli Vitran Nigam.
The hearing has been adjourned by The Bench till next Monday. The Municipal Corporation will present comprehensive scheme and examine and respond to certain suggestions made by the Court regarding the allotment of accommodation of the displaced residents.